UP: Welcome to the UP Fam Juliana! Can you introduce yourself and tell us how you got started in music? From the info we gathered about you it looks like this is your first Rodeo! How are you feeling about entering this new stage in your life with music?
Juliana: Thank you so much for having me! My name is Juliana Dominguez. I'm a Latina indie singer, songwriter, producer, and multi-instrumentalist from North Bergen, NJ. I have had an interest in music from a very young age. I would sing songs from my favorite shows like Hannah Montana and Glee around the house. I was also in my elementary school choir. I started taking piano lessons at age 4, then singing lessons at age 11, and most recently electric guitar lessons at age 16. I have also been learning how to use Garage band and Logic Pro through YouTube since my freshman year of high school. Eventually, I got into my dream school, Berklee College of Music, and have now released my very first single! I feel like I have leveled up majorly in my musical expression. I started cultivating all of these skills and abilities over the years and this is just the beginning for me! It feels very full circle because I have dreamed of releasing my own music since I can remember.
UP: Amazingly, you've gotten a lot of great opportunities from places such as Amazing Radio UK and the US. This just tells us that you are onto something with your music and that's part of the reason why we too wanted to include you on our site. Your music really stands out and feels very authentic. How do you stay so authentic in your songwriting process? Can you tell us a bit about it?
Juliana: I think something that has helped me stay authentic is never forcing inspiration. I feel that in a lot of songs you can tell when someone is forcing themselves to write a song that's relatable if that makes sense? It doesn't feel genuine and authentic, it feels forced. The best inspiration is your own experiences. People will hear the genuineness and relate to it.
I also think it's important to really analyze and break down your favorite songs and find what it is that you like about them, and what resonates with you. This has helped me form my own unique sound. Besides certain chord progressions and instrument choices, I have always loved songs with birds and other ambient sounds in the background. They bring me a sense of peace and calm. They also add this gentle and ethereal air to the song. "Good Days" by SZA and "Lovin' You" by Minnie Ripperton are two of my favorite songs of all time and they have these ambient sounds I'm talking about. I like to include these ambient sounds in my songs because it feels like I'm paying homage to these great female singer-songwriters while also adding a little *sparkle* to my music.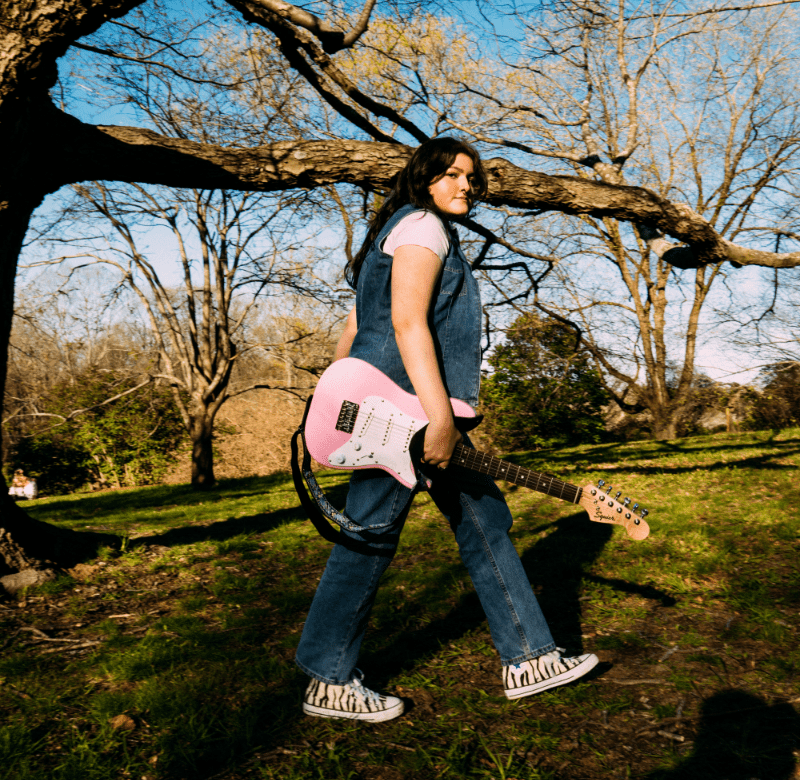 UP: Okay, so let's talk about your new single "hey pretty boy". I want to deconstruct a bit here. What is it about and why is the message in this song important to you?
Juliana: I wrote this song about a boy that I met on Bumble. We had a really cute first date and planned on hanging out again. I texted him, "hey pretty boy :)," and asked if he wanted to hang out soon. He said he was busy and couldn't hang out, which I understood, but I'm a little bit of an anxious person so it got in my head that he was maybe brushing me off and uninterested. The thought of this made gave me a lot of anxiety, but I decided to use it as inspiration. I looked back at the text, "hey pretty boy :)," and thought to myself, "that should be a song!" so I got to writing.
The song talks about my worries and anxieties over this boy. There's this feeling of excitement and hope overseeing the boy again, but there's also tension and uneasiness because I don't know if he's playing with my feelings or being genuine. Many have told me the song has no clear verse or chorus, and that the story feels unfinished, but that's on purpose. I not only am expressing the feelings of uncertainty through my words but also through the music itself. It's a physical manifestation and embodiment of my emotions, which I think is very beautiful.
UP: This one is always really hard for artists to answer but here we go. Who do you think you sound like and if you were to open for another artist or band, who do you think you'd end up with on a major tour? Just imagine it for a second as if you were living it!
Juliana: I have been told that I sound like Clairo and Mac DeMarco with a touch of Ariana Grande, which I completely agree with. They are all huge musical heroes for me. If I were to open for any of them, it would definitely be Clairo. I love working with other women in music and I feel that we have very similar lyrical content. I think her fans would really like my music and I would be a great opener for her.
UP: You mention that you're a Latina. Is this something important to you and to tell the world? The person interviewing you right now is a Latina too so I admire anyone that speaks a bit about it and had to ask!
Juliana: Wow, yes, being Latina is incredibly important to me! I have dual citizenship in Ecuador and the US. Both of my parents were born and raised in Ecuador. I was raised in a small Latinx neighborhood in North Bergen, New Jersey with my grandma on the upstairs floor of our house. (fun fact: 070 Shake is also from my neighborhood! The "070" in her stage name comes from our zipcode, 07047.) Growing up, I spoke only Spanish in the house and English at school. I dreamed of being a major artist heard on the radio and all over the world, but I felt like there was barely any representation on the radio of people like me, other than mainstream pop artists on Latin radio. Especially in the indie-pop genre, I haven't seen any Latinx representation. So, yes, being Latina is something important to me that I want everyone to know about. I have even been told by people to have my stage name just be "Juliana," but the last name, "Dominguez," is significant to me because it is so obviously Latin. I am proud to be a Latina and hope to be the Latina representation in indie-pop that everyone needs.
UP: Fun Question for you! Do you like Stranger Things? If so, who is your favorite character and why?
Juliana: Yes!! Stranger Things is one of my favorite shows of all time. My favorite character is definitely Eddie Munson. He's just so pure and cute. My friend and I are always fangirling over him haha!
UP: All right, where can music lovers get in touch with you and listen to your music? You can pick your favorites online spots.
Juliana: My Linktree has everything on one page! It has my social media, website, contact info, and streaming link: https://linktr.ee/thejulianadominguez